---
EXH 11

Group Show
Floorr Magazine Online Gallery | London
Permanent, from October 19, 2023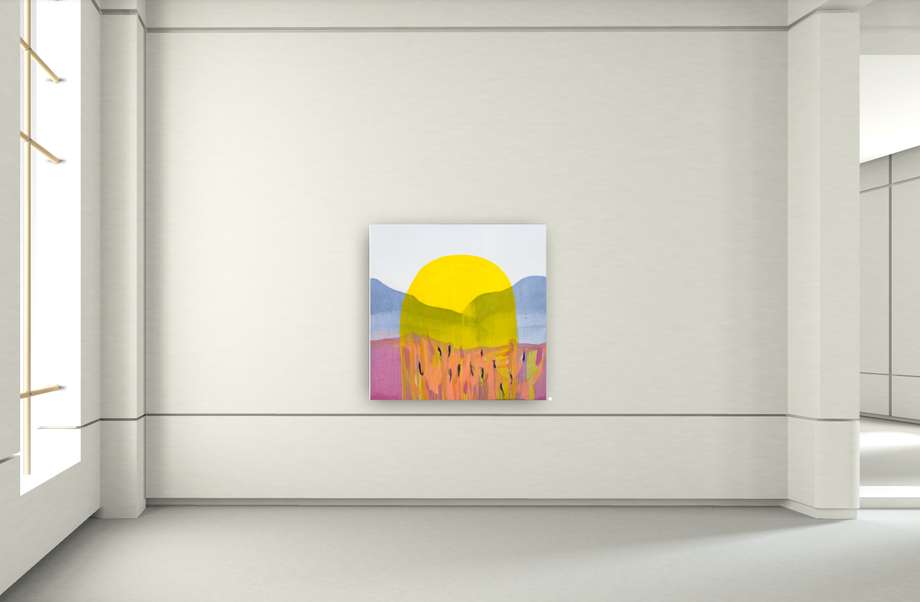 Arcane Dignity | From the series Beyond PortLand | oil on canvas, 150 x 150 cm
War and Peace

Group Show. Curated by Thierry Gotteland
Barbagelata Art Foundation | Barbagelata Contemporary Barcelona

Permanent, from September 15, 2023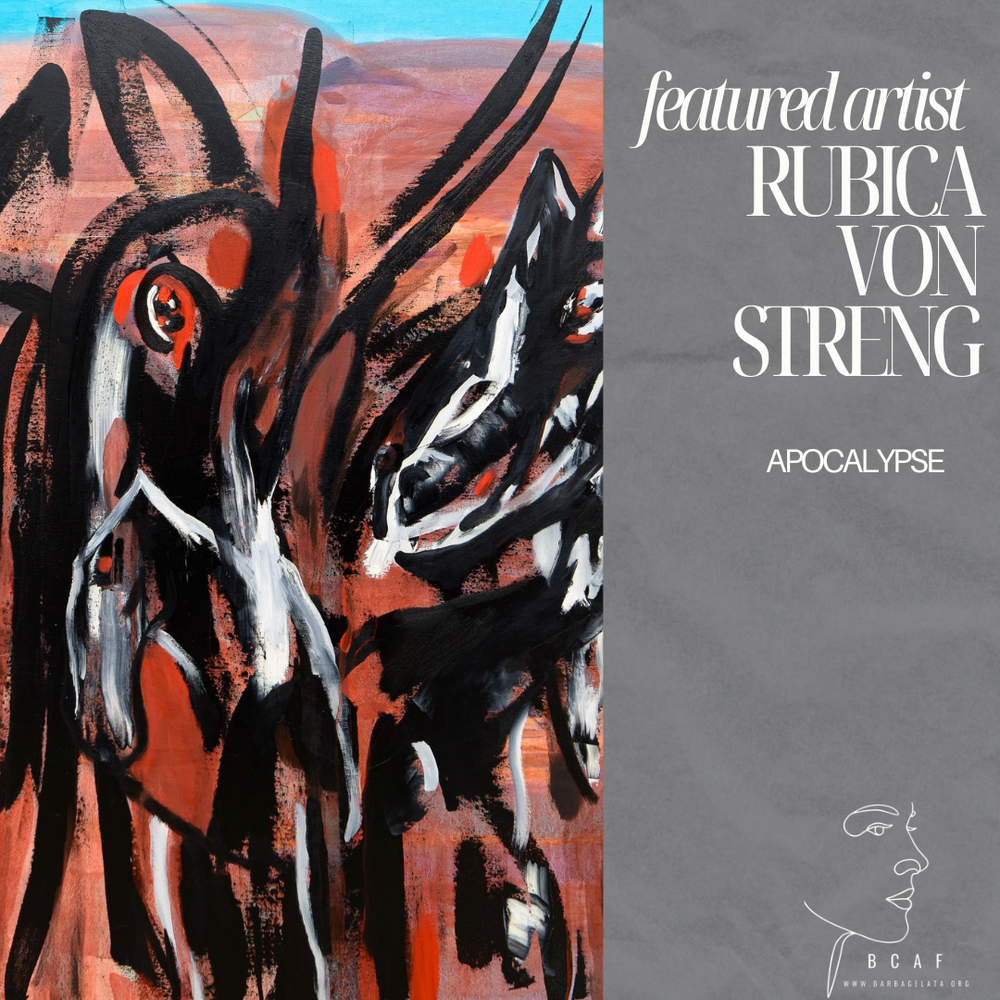 Apocalypse | From the series Embracing the Future | 2022
 "Let us engage with history's lessons, and through reflection and dialogue, strive to amplify the echoes of peace while tempering the drumbeats of war." Thierry Gotteland

Totentanz

Solo Show
Kulturkirche St. Jakobi | Stralsund
May 19 – July 30, 2023 & October 10 – October 25, 2023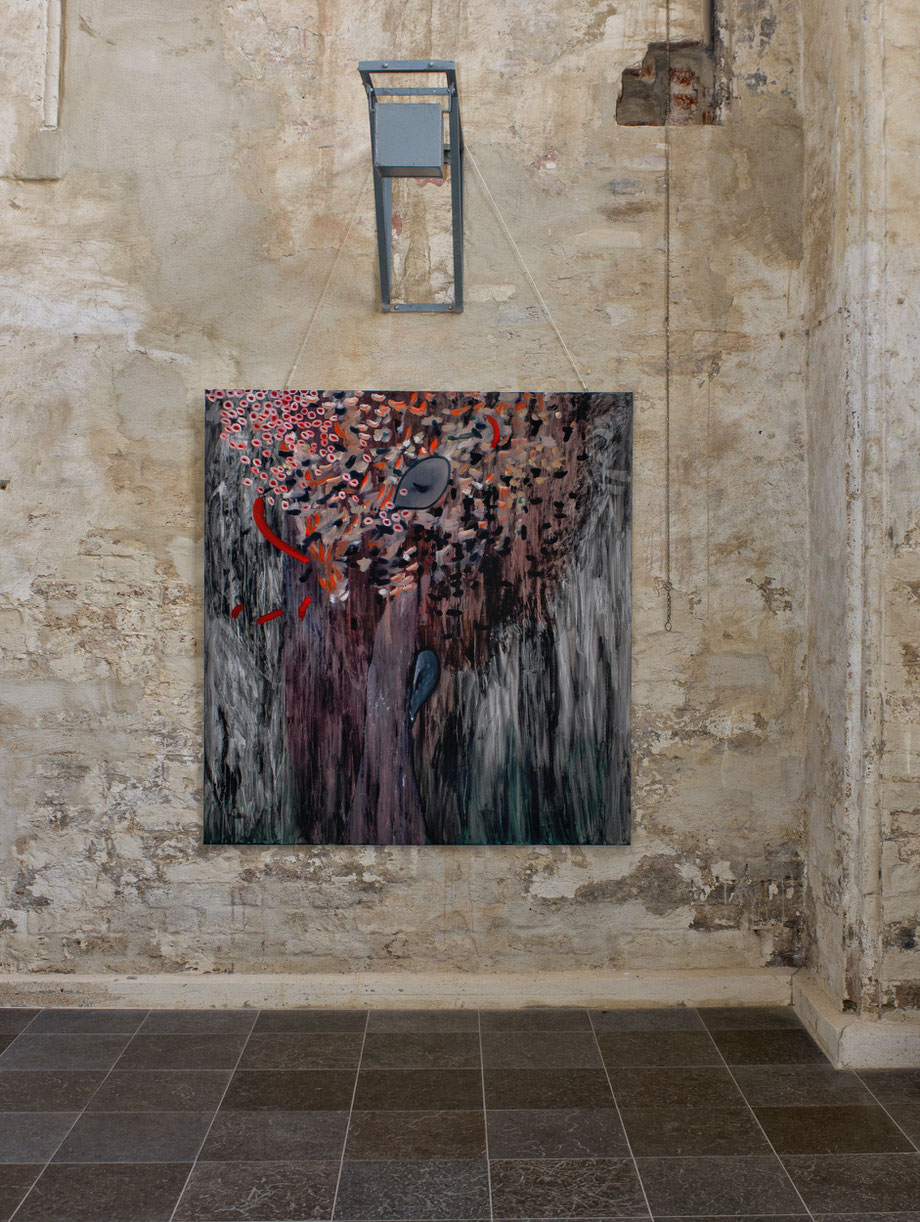 Arbor Vitae | oil on canvas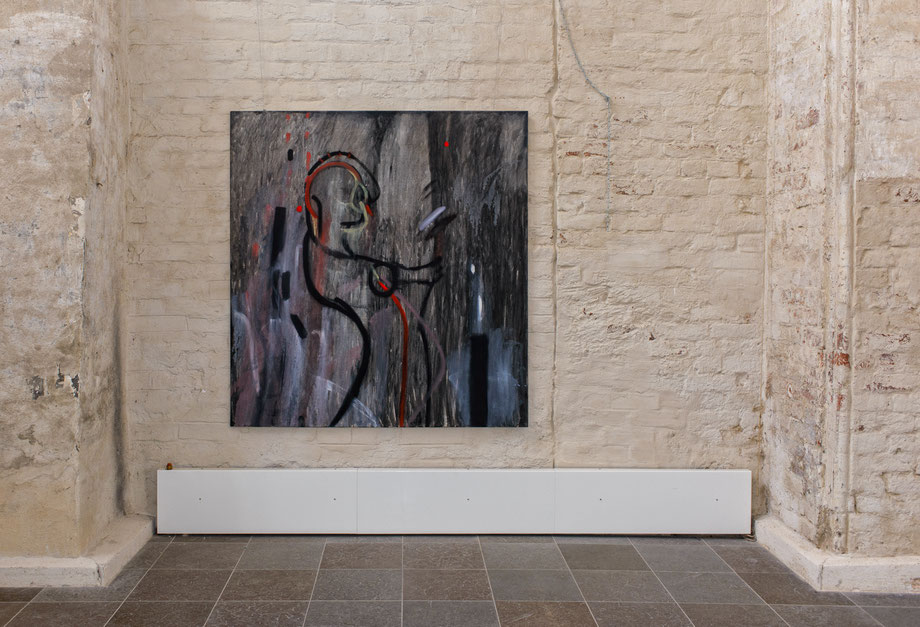 Dance of the Dead | oil on canvas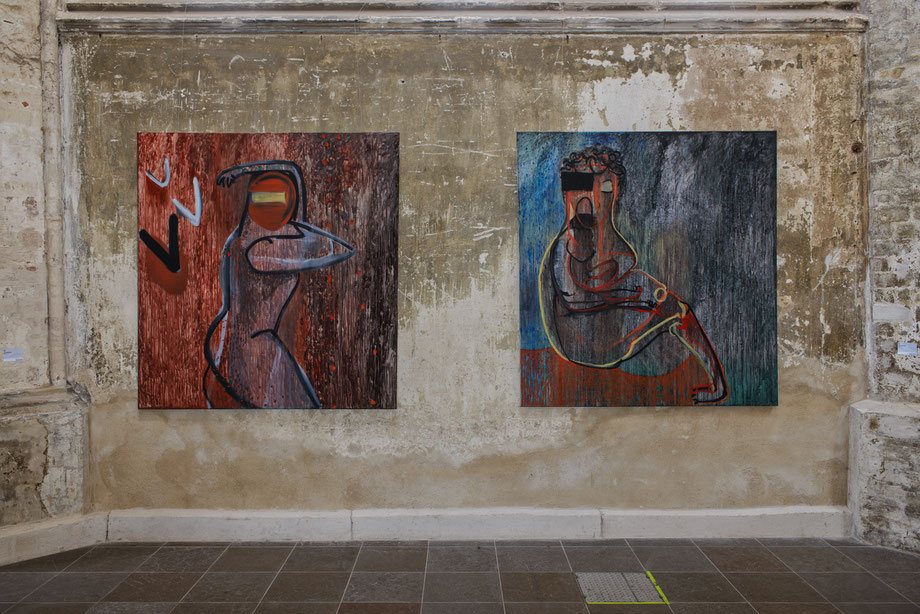 Questions and Answers and To Perish and To Connect | oil on canvas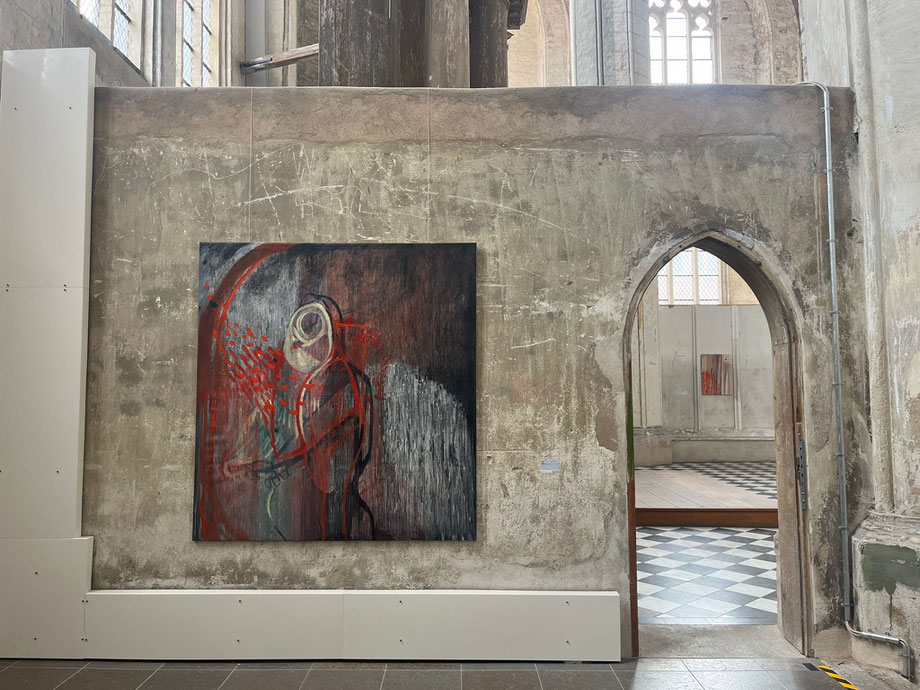 Incognito | oil on canvas | Photo: Janet Lindemann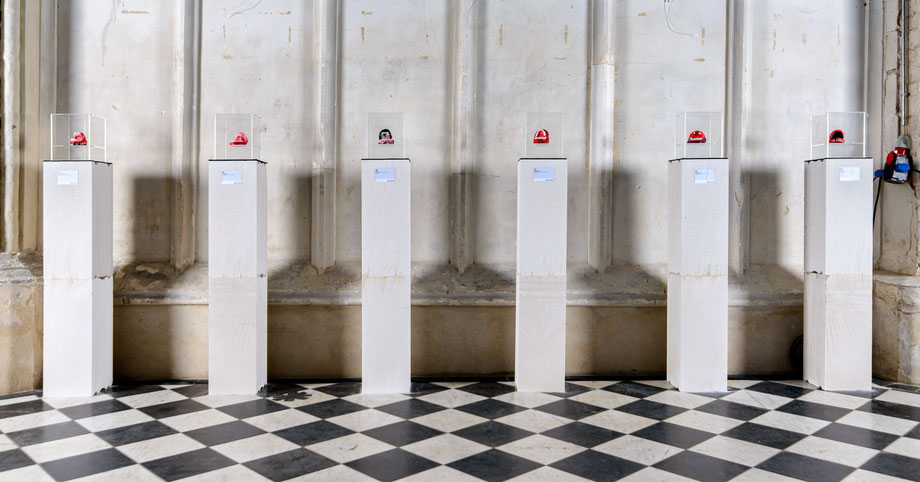 Famous Last Words | sculptures (6 out of 12) in acrylic cases

As their main exhibition of 2023, Kulturkirche St. Jakobi, Stralsund, was showing Totentanz, the complete cycle of works, consisting of more than 41 paintings and 14 sculptures. With almost 20,000 visitors, it attracted quite a few art enthusiasts from all over the country – and beyond.
Many thanks to Acryl Innovations for supporting the production of the acrylic cases.

paper works

Group Show. Curated by Ralph Tepel
Museum Schloss Mitsuko | Thürkow (Mecklenburg-Western Pomerania)

September 30 – October 31, 2023

Tayōna Fūkei | ink and watercolor on Japanese kozo paper

Alongside works of 17 other artists from Japan and Germany, a selection of ten colorized ink drawings from the series Tayōna Fūkei were on display in the group show paper works, curated by Ralph Tepel, director of Museum Schloss Mitsuko in Thürkow, Mecklenburg-Western Pomerania.
Many thanks to Philipp Stange's cabinetmaker's workshop for supporting the production of the wooden frames.

Portrait I

Group Show
Galerie Tammen | Berlin
June 6 – July 8, 2023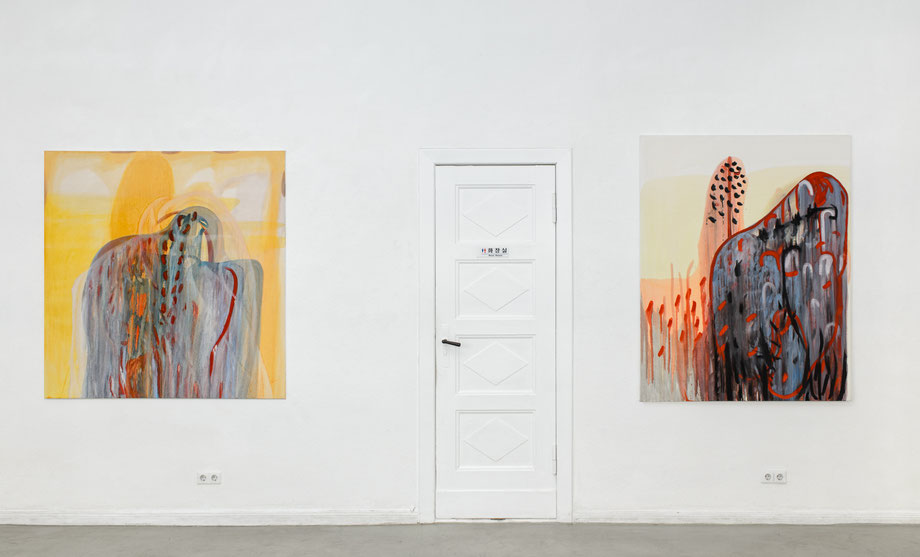 The Open and Paths in Different | oil on canvas

Seven artists – seven positions: Portrait I at Berlin's Galerie Tammen showed a plethora of approaches to the classical subject of portrait. Gallery owner Werner Tammen carefully selected eleven paintings (oil on canvas, oil on paper) from my PortLand cycle of works – which stood in interesting contrast to the predominantly figurative works of the other artists in the show.
Limits of PortLand

Solo Show
Musee Dezentral | Metaverse
October 15 – 31, 2022

Warriors of the Future I – III and Planet B | oil on canvas

For two weeks in October 2022, Musee Dezentral was hosting an exhibition of a curated selection of the series Limits of PortLand – abstract and multi-layered paintings, depicting imagined landscapes and their future inhabitants. Thus, a momentary, yet timeless glimpse of l'avenir, shown in a place that itself appears to come from the future.

A Matter of Touch
Group Show. Curated by Jurriaan Benschop
Torstrasse 111 | Berlin
July 17 – August 2, 2020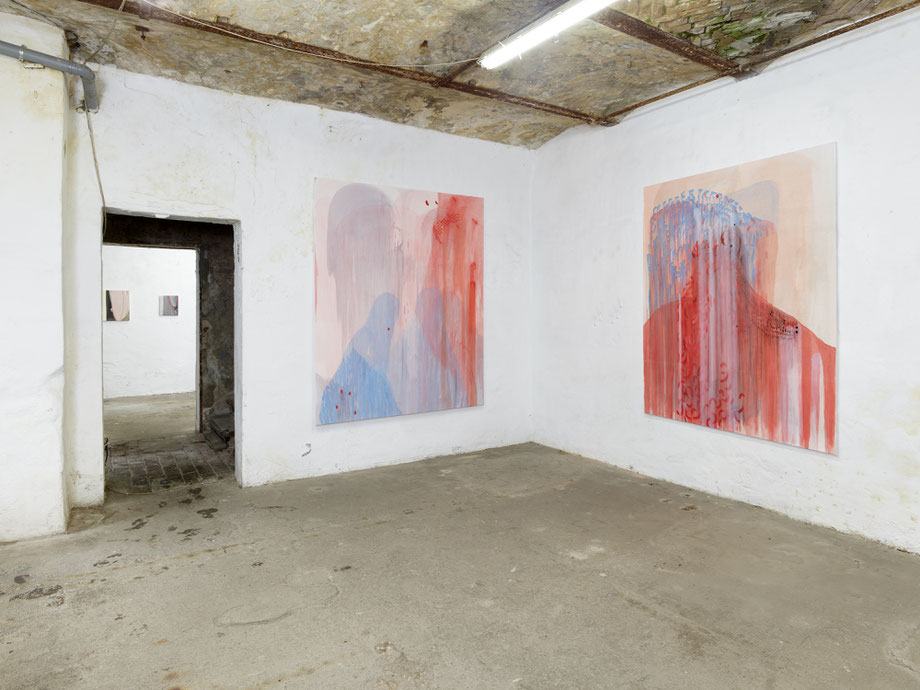 Closeness and Musing | oil on canvas | Photo: Eric Tschernow

Paintings from USA and Europe
Touch is an important aspect of painting. The temperaments of the artists in this exhibition can be felt through the way they have worked and touched the canvas, be it with a firm, decisive brushstroke, a light touch to create transparency, or the sanding off of layers to create flatness or roughness. A whole range of sensibilities can be stored in a painting, speaking to us even before we identify what is actually depicted. Jurriaan Benschop
Taking Root
Group Show. Curated by Jurriaan Benschop
KIT – Kunst im Tunnel | Düsseldorf
November 2, 2019 – January 26, 2020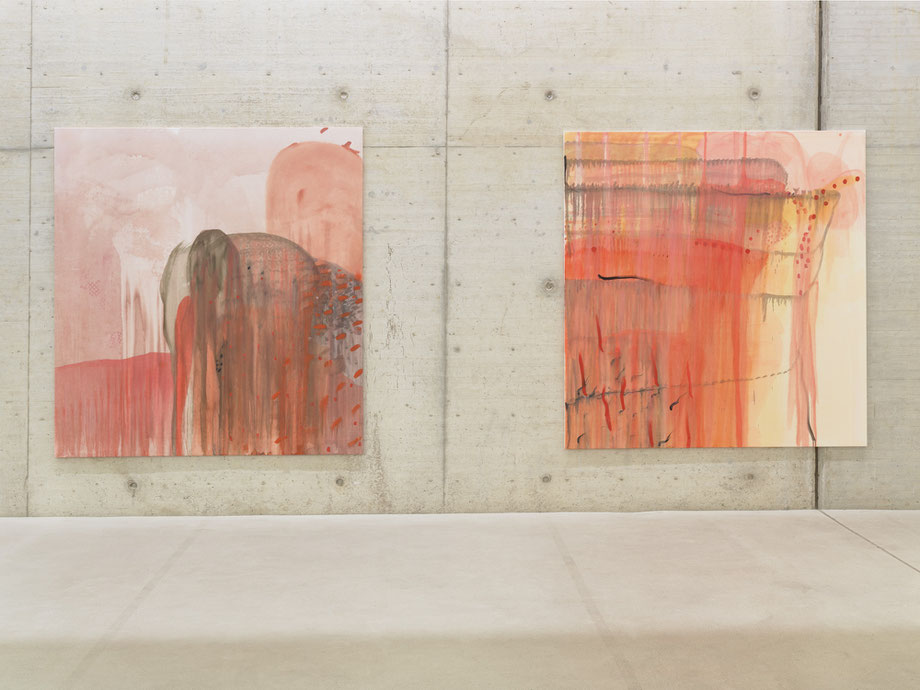 Am I Elefant and Crib Crab | oil on canvas | Photo: Ivo Faber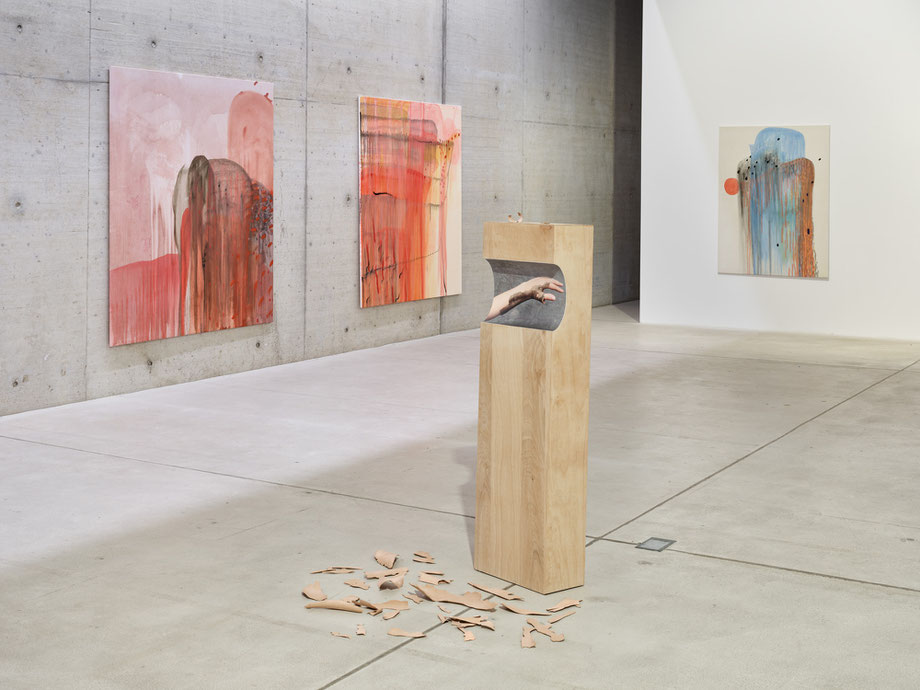 Am I Elefant, Crib Crab and Bothered | oil on canvas | Photo: Ivo Faber

In a world full of conflicting interests and beliefs, how do artists root themselves? Where do they find their sense of direction? These questions underlie the exhibition Taking Root. The assumption is that the eleven artists presented here did find some roots. They have developed a focus in their practice and in their interests, and that is what gives their work depth.
For a tree, life without roots is not possible. It needs a stronghold, right underneath, in order to grow and stay firm, to endure storm and thunder. A young tree can bend, has resilience, but it can only do so because it has already grown some roots. One can assume that, similarly, human beings find some "nutrition" in the place where they grow up. Yet, it is not the only place where this happens. Artists can pick their roots, collect them on their way through life, or search for them in places where they are not yet familiar. After all, humans are mobile beings. And for humans, roots are not just a matter of physical circumstances; they can reside in thoughts, memories, and traditions.
Taking Root brings together the work of eleven artists. Some of these artists grew up close to nature; for others, the city has been their natural environment. Some of them are young artists, who in recent years have finished their master's degrees and have just started their own studio practices. Others have been working for decades already, and have had more options to develop their roots. Together, the participants span two generations of contemporary artists. Most of them come from Europe, but in terms of landscape and cultural climate, their backgrounds are diverse. One is from the USA, which is itself a country with many roots in Europe. In these days of divisive politics, it is good to discover that connections are still tight, even though they might move underground. Jurriaan Benschop
---
List of Ongoing and Past Exhibitions
2023 | EXH 11 | Floorr Magazine Online Gallery London | more
2023 | Totentanz | Kulturkirche St. Jakobi Stralsund | more
2023 | paper works | Museum Schloss Mitsuko | more
2023 | War and Peace | Barbagelata Contemporary Barcelona | more
2023 | Portrait I | Galerie Tammen | more
2022/2023 | außer sich - inner ich II | Inselgalerie Berlin | more
2022 | Limits of PortLand | Musee Dezentral | more
2022 | Offshore Show | Haus der Kunst München | more
2022 | Limits of PortLand | Berlitt Castle, Open Ateliers Brandenburg
2021 | An End to Jealousy | Berlitt Castle, Open Ateliers Brandenburg
2020 | A Room Of Her Own II | Anahita Contemporary | more
2020 | A Matter Of Touch | Kunst- und Projekthaus Torstrasse 111 | more
2020 | PArt | Online Exhibition | Producers Art Platform | more
2020 | Online Exhibition May 2020 | Galerie U 108
2019/2020 | Taking Root | KIT Kunst im Tunnel | Kunsthalle Düsseldorf | more
2018 | Meisterschüler Ausstellung | Universität der Künste Berlin UDK   
2017 | Inside Out | Universität der Künste Berlin UDK 
2017 | Blick hinter die Kulissen | Rathausgalerie am Schloss Brühl | Max-Ernst-Stipendium
2016 | Inner Vision | Universität der Künste Berlin UDK
2015 | Young Positions | Galerie Pankow | more

Works in Collections

Stralsund Museum